Hospice Awareness Week - Open Day
From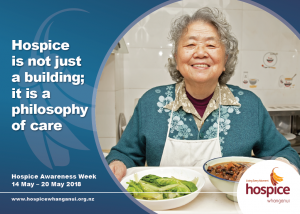 While it's our new building we're celebrating, there is so much more to Hospice than the building...

Hospice Awareness Week begins on Monday, May 14th. This is a time when Hospices around New Zealand engage with the communities they care for in order to create and enhance awareness and de-bunk some of the myths about Hospice care.

For us at Hospice Whanganui, this year's Awareness Week is about extending an open invitation to anyone interested in joining us in a cuppa, to have a look around our facility and to ask questions.

Yes, THOSE questions. The ones you have always been curious or concerned about, but have never known who, or how to ask. So we invite you to come along and spend an hour or so with us, to ask those questions and perhaps even have some of those myths debunked for yourself, first-hand.

There are two sessions available on May 16th, 2pm or 5:30pm. Numbers for each session are strictly limited as the tour will include the Inpatient Unit. Out of courtesy and respect for the patients who may be with us, PLEASE CONFIRM your attendance so we know to expect you. Please let Valda know on 349 2697, your preferred time slot.

Light refreshments will be available.