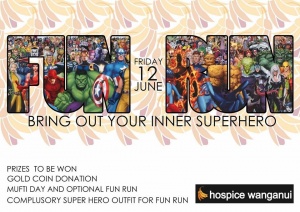 An important note about a little fundraiser coming up. This from Sammy Murphy, Head of Sport, on behalf of the students at Wanganui High School...
"This Friday the 12th of June, Wanganui High School is holding a mufti day and fun run. The cost for the day is a gold coin donation with all the profits going to Hospice Wanganui.
Our school has had many teachers, students and family members close to our hearts fighting diseases like cancer and Hospice have been there for them to make their last moments as comfortable as possible.
So the day is about giving back to our local community with the theme of Superheros helping us in remembrance for them."
"Not all superheros wear capes, some fight crime while others fight cancer"