Hospice Philosophy
Purpose
---
It's never too late to live in the moment. Too often we worry about the future and brood about the past.
We believe that Hospice care should be available to anyone that needs it, so that they can make the most of life. A quality of life with comfort and feelings of safety and security, at a time when things are uncertain, is important to us.
This belief is widely accepted across Hospice and it motivates us to continue with our purpose, our very reason for being which is: 'to ensure all people have access to the best possible care at the end of their lives.' People die as they live i.e. sometimes angry, sometimes anxious and sometimes in pain (if not physical then emotional and/or spiritual).
We understand and have empathy for this and given the opportunity, our purpose is to improve the quality of life for those living with a life-limiting illness, helping them to make the most of every moment, in whatever way works best for them.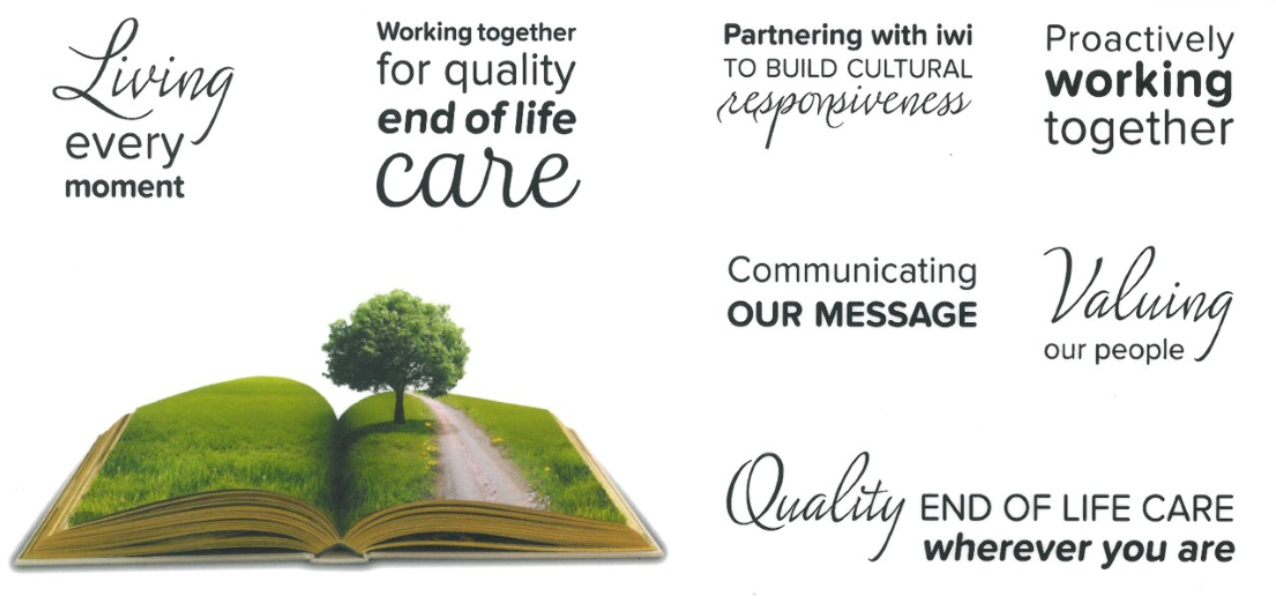 Vision
---
Anyone who is terminally ill has the opportunity to access the excellent, professional and compassionate care Hospice provides.
Hospice Whanganui provides excellent palliative care for the terminally ill through an expert interdisciplinary team, maximising quality of life and serving the needs of patients, their families and whanau.
The Hospice philosophy is to offer holistic care, aiming to meets as many needs of the patient as we can - physical, emotional, social and spiritual; wherever the need may lie.
Values
---
Patients come first - every decision we make is based on this belief.
Hospice has a special kind of care that is holistic and respectful. Here are some of the values that are important to us.
Leading in specialist palliative care and in enabling others
Balancing patients first with looking after ourselves and each other
Professional in all we do
Respectful in all our dealings
Valuing of the whole person
Active in quality and caring
Connected with our peers, our community, with other providers

A Dying Patient's Bill of Last Rights

The dying voice sounds an ongoing request for basic human rights, last rights that belong to the dying because they are still among the living. Caregivers of the dying need to continually remind themselves of these last rights, perhaps reading them before and after each visit.

The Right to BE IN CONTROL
Grant me the right to make as many decisions as possible regarding my care. Please do not take choices from me. Let me make my own decisions.

The Right to HAVE A SENSE OF PURPOSE
I have lost my job. I can no longer fulfil my role in my family. Please help me find some sense of purpose in my last days.

The Right to REMINISCE
There has been pleasure in my life, moments of pride, moments of love. Please give me some time to recollect those moments. And please listen to my recollections.

The Right to BE COMFORTABLE
The pain involved in dying is multifaceted. Although not all my pain can be taken away, please relieve whatever portion you can.

The Right to TOUCH AND BE TOUCHED
Sometimes I need distance. Yet sometimes I have a strong need to be close. When I want to reach out, please come to me and hold me as I hold you.

The Right to LAUGH
People often - far to often - come to me wearing masks of seriousness. Although dying, I still need to laugh. Please laugh with me and help others to laugh as well.

The Right to BE ANGRY AND SAD
It is difficult to leave behind all my attachments and all that I love. Please allow me the opportunity to be angry and sad.

The Right to HAVE A RESPECTED SPIRITUALITY
Whether I am questioning or affirming, doubting or praising, I sometimes need your ear, a non-judging ear. Please let my spirit travel its own journey, without judging its direction.

The Right to HEAR THE TRUTH
If you withhold the truth from me, you will treat me as if I am no longer living. I am still living, and I need to know the truth about my life. Please help me find that truth.

The Right to be in DENIAL
If I hear the truth and choose not to accept it, that is my right.

Honour these Rights;
One day you too, will want the same